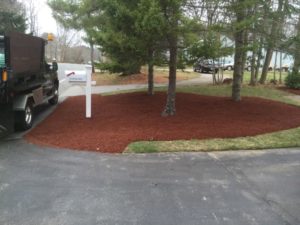 Mulching is the installation of bark mulch into planting beds typically done in the spring on an annual basis.  Only premium bark mulch is used by the crews at Smitherz Landscape.
Many companies offer mulch which has been made by grinding stumps and other woody debris and then dyed.  Products that are created this way are more susceptible to bring  insects onto your property and they also take vital nitrogen away from plants due to their woody content.
Bark mulch is aesthetically pleasing and it also holds moisture in the roots of the plants. Be sure to check where your mulch came from before being spread into beds.
Contact us
today for fresh bark mulch delivery and installation.