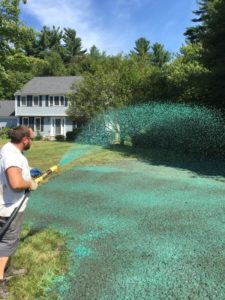 Hydroseeding is the process of mixing seed, fertilizer, and a wood/paper mulch to create a slurry mix which is then sprayed onto an area that has been prepared or cultivated for seed. There are several advantages to hydroseed over traditional seeding methods. The seed will be less susceptible to runoff and washouts, the seed will stay moist for a longer period of time, and the seed will also be protected better against birds looking for a quick snack.
Like all of the services offered, there are many contractors who offer hydroseeding. An important thing to consider is what is being put in the tanks. Some contractors will offer a lower price by cutting the amount of seed/fertilizer in their mix. They may also not add a weed preventer (Drive, Quinclorac), liquid lime, or a tackifier. These are all standard items in a hydro-seed tank at Smitherz Landscape, as is only the highest quality seed and fertilizer. In addition to the mixture we also apply a perennial ryegrass with a broadcast spreader before spraying to ensure quick germination and prevent as little runoff or washout as possible.
Contact us to get your lawn growing today!